RV Towing Services Woodbine, MD
24 Hour RV Towing in Columbia
Do you need a professional RV Towing company in Columbia, MD? Priority Towing has been serving the Columbia and Ellicott City communities ever since we opened our doors in 2014. Our local business provides 24 hour RV towing services because you never know when you'll need assistance!
Help is only a phone call away with our 24-hour in-house dispatch team. Our heavy towing team is WreckMaster certified and has gone through RV-specific professional training. Priority Towing has the expertise and know-how to tow all classes of motorhomes and camper vans.
For immediate assistance, call our RV Towing team at 240-780-8691.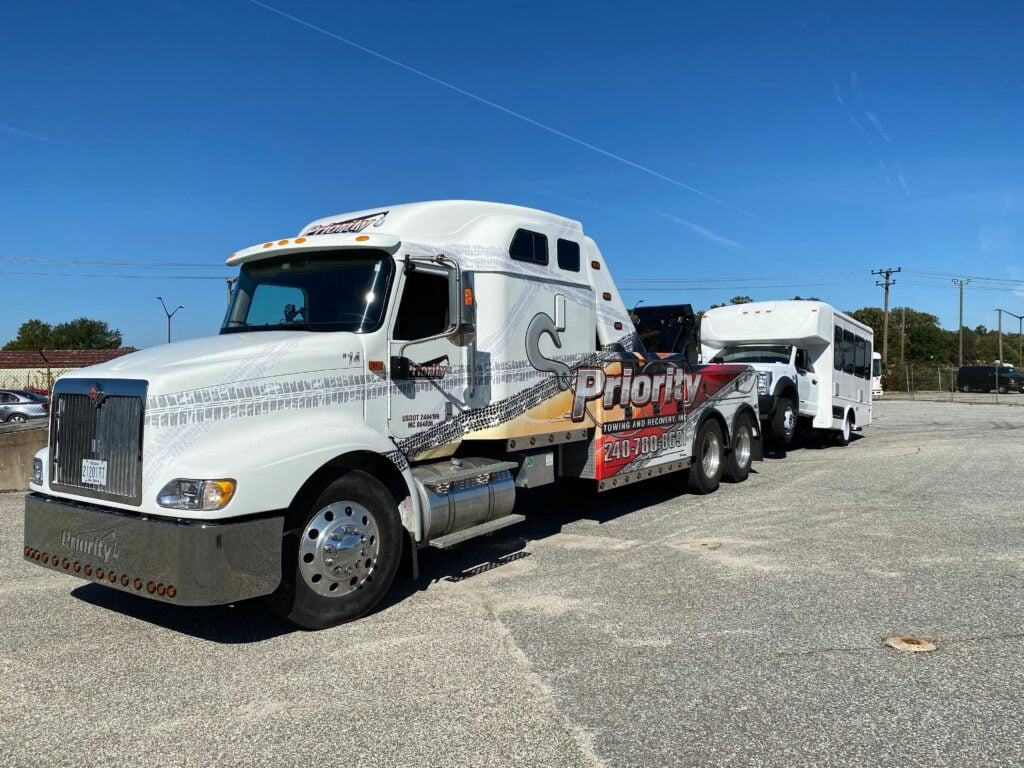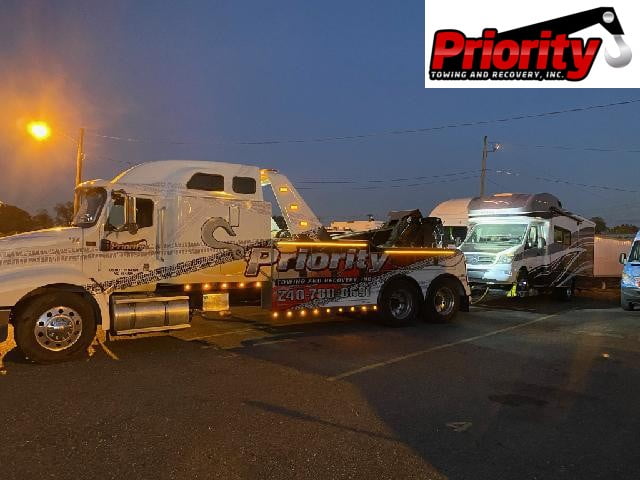 24 Hour RV Roadside Assistance Near Me
If you need RV roadside assistance in Columbia, Ellicott City, and the surrounding areas, call Priority Towing. We offer the following 24-hour roadside assistance services:
RV Locksmith Service (Lockout Service)
RV Battery Jump Start
Tire Changes
Heavy Duty Winching
Ramblin' Pines, 801 Hoods Mill Rd, Woodbine, MD 21797, United States
Columbia Association RV Park, 9450 Gerwig Ln, Columbia, MD 21046, United States
Camp Meade RV Park, 2300 Wilson St, Fort Meade, MD 20755, United States
Evergreen Point Village, 7589 Shields Dr, Frederick, MD 21704, United States
Cherry Hill Park, 9800 Cherry Hill Rd, College Park, MD 20740, United States
Washington DC / Capitol KOA Holiday, 768 Cecil Ave N, Millersville, MD 21108, United States
Bar Harbor RV Park and Marina, 4228 Birch Ave, Abingdon, MD 21009, United States
Marylander RV Park, Atlantic Ct, Aberdeen Proving Ground, MD 21005, United States
Adventure Bound Camping Resorts, 5381 Sands Rd, Lothian, MD 20711, United States
Buttonwood Beach R.V. Resort, 170 Buttonwood Beach Rd, Earleville, MD 21919, United States
Arundel Mobile Village, 490 N Patuxent Rd, Odenton, MD 21113, United States
Little Bennett Campground, 23705 Frederick Rd, Clarksburg, MD 20871, United States
Woodbine Village, 5934 Woodbine Rd, Woodbine, MD 21797, United States
Greenbelt Campground, Riverdale, MD 20737, United States
Hillwood Camping Park, 14280 Gardner Manor Pl, Gainesville, VA 20155, United States
Navy Getaways Annapolis Suites, RV Park, Campground and Cottages, 2 Truxtun Rd, Annapolis, MD 21402, United States
Orems Trailer Park, 808 Orems Rd, Baltimore, MD 21221, United States
Bay Front Mobile Home Court & RV, 7405 Bay Front Rd, Sparrows Point, MD 21219, United States
Merry Meadows Recreation Farm, 1523 Freeland Rd, Freeland, MD 21053, United States
Bayshore Campgrounds, 4228 Eastern Neck Rd, Rock Hall, MD 21661, United States
Rol Park Village, 8049 Veterans Hwy # 34, Millersville, MD 21108, United States
Bali Hi RV Park, 12342 St Martins Neck Rd, Bishopville, MD 21813, United States
Homestead Mobile Estates, 4 Homestead Dr, Port Deposit, MD 21904, United States