A Smooth Heavy Duty Hauling Job from Fisherville, VA, to Baltimore, MD
In the world of heavy-duty hauling, some jobs stand out for their seamless execution. Such was the case with Priority Towing & Recovery's recent assignment – a heavy-duty hauling job from Fisherville, VA, to Baltimore, MD. Unlike many recovery missions, this was a straightforward task, but it showcased the precision and expertise that Priority Towing & Recovery brings to every heavy-duty haul.
Truck 20, a 2000 Kenworth W900, was entrusted with the mission. The cargo: a hefty 14,000-pound plenum, an air conditioning unit, destined for Baltimore, MD. The challenge lay not in the complexity of the job but in the responsibility of transporting this significant load safely and securely.
The team at Priority Towing & Recovery took every precaution to ensure the plenum's safety during transit. Loaded onto their lowboy 440 trailer, a tandem axle trailer boasting a 40-ton capacity, the plenum required the precision touch of a crane for both loading and unloading.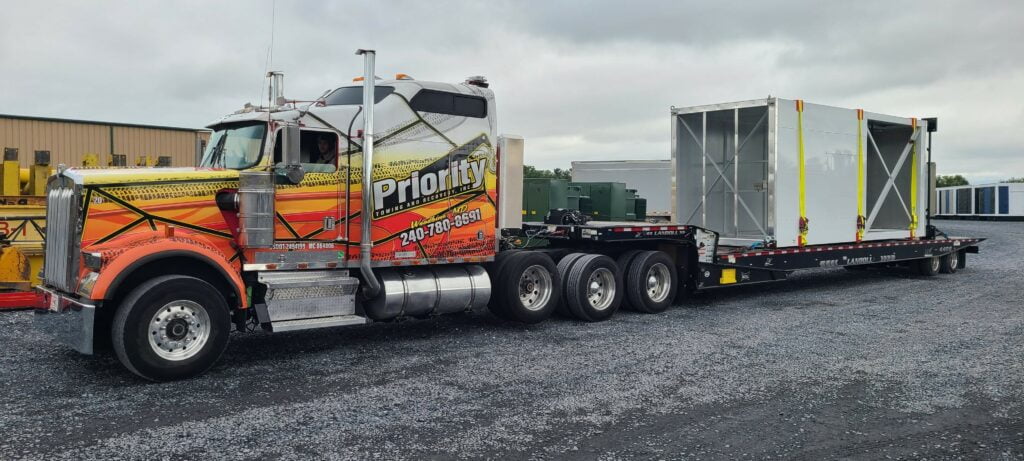 Precision Heavy Duty Hauling with Priority Towing & Recovery
The journey began in Fisherville, VA, where Priority Towing & Recovery's Truck 20 was loaded with the 14,000-pound plenum. Securing such a sizable load is no small feat, but the team at Priority Towing & Recovery is well-equipped for the job.
Using 4″ straps and corner protectors, they ensured that the plenum was firmly and safely fastened to the trailer. With a cargo of this nature, every detail matters, and the team's attention to detail ensured a smooth journey ahead.
One of the notable aspects of Priority Towing & Recovery is its commitment to compliance and safety. Their trucks are Emodal registered, and their drivers hold TWIC (Transportation Worker Identification Credential) cards. These credentials allow them to operate seamlessly in and out of ports, showcasing their versatility and ability to meet a wide range of transportation needs in heavy-duty hauling.
This heavy-duty hauling job exemplified Priority Towing & Recovery's dedication to precision and safety in every task they undertake. Whether it's a straightforward heavy-duty haul or a complex recovery, they bring the same level of expertise and commitment to ensure a job well done.
Heavy Duty Hauling by Priority Towing & Recovery
Choosing a heavy equipment transport company can be nerve-wracking. Make the wrong choice and you can incur massive losses and expenses. Avoid the stress by choosing Priority Transport and Recovery to be your heavy equipment transport company. We have the equipment and experience to safely transport specialized heavy equipment.
Whether you need to move earthmoving equipment between job sites in the off hours or need to tow an excavator to the repair shop, we're the company for you! Our heavy towing services are available 24 hours a day, 7 days a week, 365 days a year. What does that mean for you? You can have a professional heavy towing company at your location no matter when you need us!