Dump Truck Tow Team Called to Bring Truck to Dealership for Repairs
The dump truck tow team from Priority Towing was dispatched to a customer in Ellicott City. The customer in question had recently bought a new dump truck for their plumbing business. With less than 3000 miles on the odometer, the truck was working perfectly … or so the customer thought. On his way home from a job, the truck suddenly would not drive faster than 10 miles per hour!
There were no engine issues nor transmission problems. Upon further inspection, it was found that the truck had severe electrical problems that could only be repaired at the dealership. The unlucky truck owner immediately called Priority Towing's heavy towing team as he knew that they could easily handle a dump truck tow.
The towing team made quick work of loading the disabled dump truck onto the back of their heavy wrecker. The team was able to tow the truck from the rear end, allowing them to forgo disabling the driveline. Twenty minutes later, the towing team dropped off the dump truck at the dealership where it would undergo much-needed repairs!
It was as straightforward a tow as you can get. Heavy lifting is easy with the right tools and the best tow truck operators using them!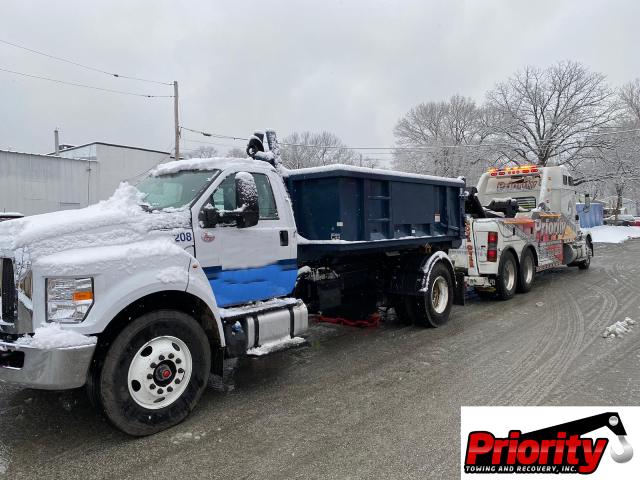 Details of Dump Truck Tow Team Called to Bring Truck to Dealership for Repairs
Priority Towing's dispatch team received a request for a dump truck tow in Ellicott City, IL. A dump truck tow team was dispatched to the client's location from 15950 North Ave, Woodbine, MD, 21797.
The dump truck tow team got on the I-70 E from MD-144 W. They drove for 0.8 miles before continuing onto I-70 E to Ellicott City. The towing team took exit 23 from US-29 S before driving to Old Columbia Pike.
Once at the customer's location, the dump truck towing team assessed the situation. The dump truck in question was brand new with less than 3000 miles on it. The customer was driving the truck back to their yard when, all of a sudden, the dump truck would not drive over 10 miles per hour.
The construction equipment towing team decided to hook up to the dump truck from the rear of the truck. This allowed them to not have to disconnect the driveline. Once they hooked up to the rear axle of the dump truck, the dump truck towing team secured it with chains. For extra safety, the dump truck towing team secured the steering wheel and pulled in the mirrors.
Priority Towing's dump truck towing team drove the dump truck to a dealership in Glen Burnie where it would undergo repairs to its electrical system.