Towing Company Recovers Forklift From 7 Foot-deep Hole!
The presence of a towing company was desperately needed at a construction site in Windsor Mill, Maryland. A construction company was building a clubhouse for an apartment complex when disaster struck. A forklift that was on the construction site had driven too close to the hole dug for the foundation.
Before the forklift operator could react, the forklift had slid into the 7 foot deep hole! It landed on a 110 degree angle and the construction crew were unable to move it. Priority Towing responded to the call and were on site within 30 minutes with their 35-ton wrecker.
This wasn't as simple as driving the wrecker up to the hole and lifting the forklift out. There were numerous obstacles that prevented the heavy wrecker from getting a clear path to the hole. The towing team assessed the situation and chose a safe location for their wrecker.
From there, it was a two-step operation. The first step was to lift the forklift into the air. It would have been impossible to simply winch the forklift out of the hole due to the awkward position it landed in.
The recovery team took their time to ensure that all safety measures were being met. They slowly lifted the massive forklift into the air. Once it cleared the hole, they began to winch it towards solid ground.
Fantastic work out there team! Your reactivity meant that the construction crew were not delayed any further. Keep it up!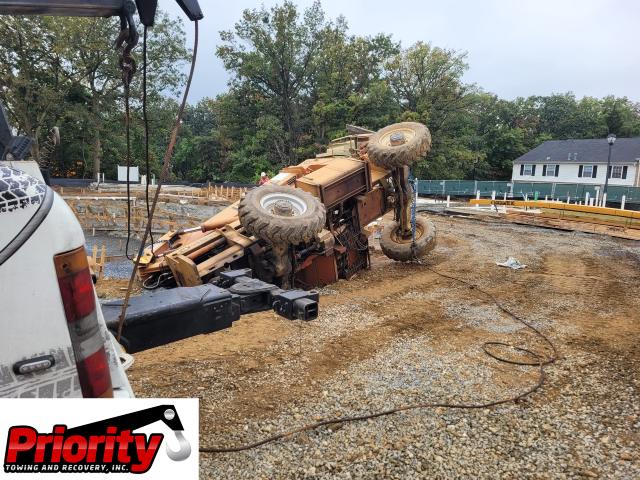 Details of Towing Company Recovers Forklift From 7 Foot-deep Hole!
A Woodbine towing company responded to a call for help from a construction crew in Windsor Mill, Maryland. The towing company dispatched a heavy recovery team from Priority Towing headquarters at 15950 North Ave, Woodbine, MD 21797, United States.
The team from the towing company arrived on site within 30 minutes of receiving the phone call. The towing company assessed the situation and decided on a plan of action to recover the forklift from a 7 foot deep hole. The tow truck operator backed up his 35-ton wrecker towards the foundation of the clubhouse.
With the wrecker in place, the team found secure contact points on the forklift to attach to. The first step of the towing company's plan was to lift the forklift into the air. From there, the towing company winched the forklift towards solid ground.
Surprisingly, the forklift was not damaged during the fall! Thanks to the towing company's experience and professionalism, no damage was incurred during the recovery process.
The towing and recovery team made their way back to Woodbine, Maryland. Once they arrived back at their headquarters, the tow truck operators thoroughly washed and disinfected their equipment. They then placed the equipment back on the 35-ton wrecker so it would be ready for the next job!
Priority Towing offers 24 hour heavy towing and recovery in Woodbine, MD.